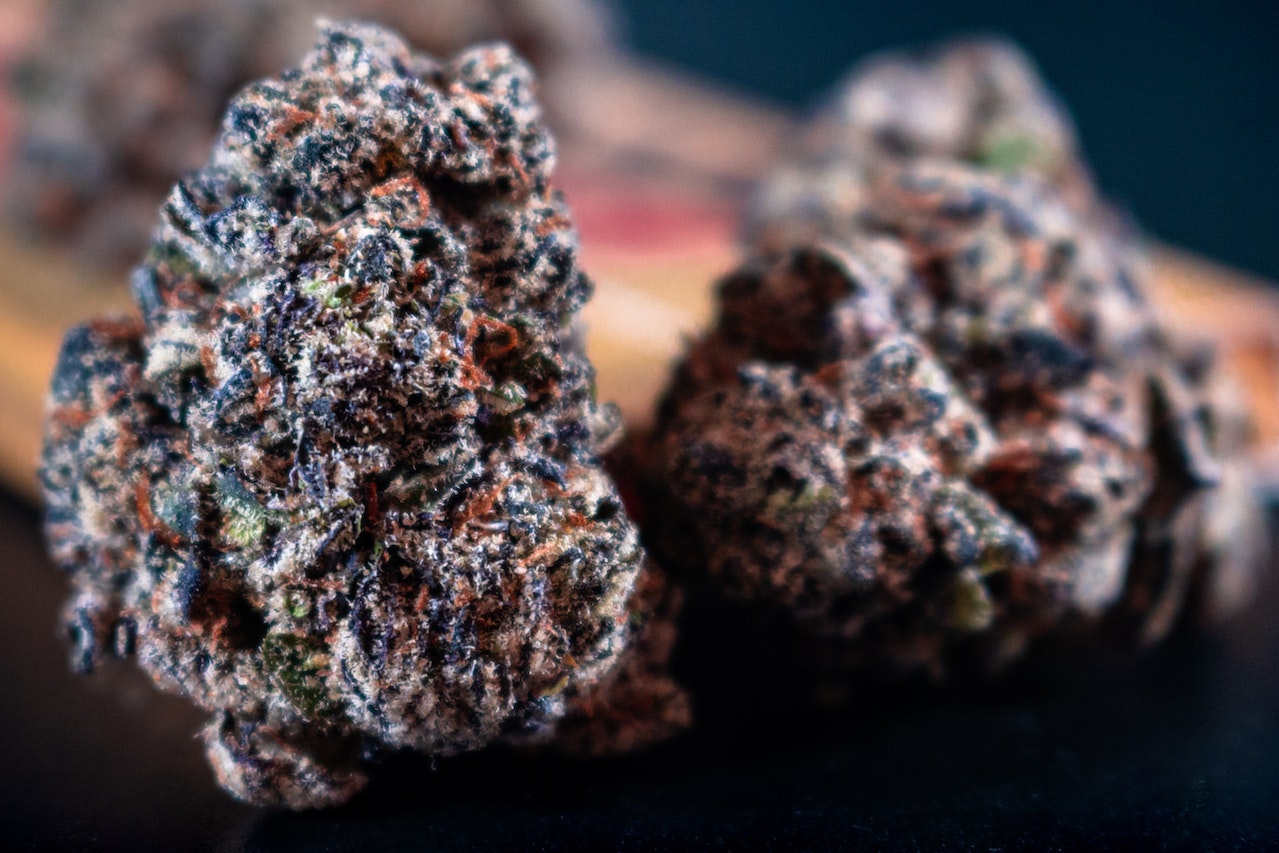 Purple strains are highly sought after. They are also potent, exotic, and have many healing properties. Read to learn about purple weed, the top 6 purple strains, and how they can help you.
Purple strains are named for their beautiful color which ranges from deep violet to light purple hues. Purple cannabis also typically has a fruity, delicious aroma. In addition, some of these strains are rarer than other types of cannabis. This makes them more desirable for many. Furthermore, most purple strains are indica or indica-dominant strains. As a result, they have excellent pain-relieving and sleep-inducing qualities. Here are the top 6 best purple strains.
Why is Cannabis Purple? 
Purple weed strains exist because of two different molecules. They are called flavanoids and anthocyanin. Flavanoids are high in antioxidants and fight off inflammation. They also help people who have cancer and are undergoing chemotherapy. 
Anthocyanin is the pigment that gives plants different colors. They range from red, blue, and purple. These molecules react to cold temperatures and make them purple. However, recently genetics and selective breeding have also turned cannabis purple.

Top 6 Best Purple Strains
Grape Ape
This strain has a delicious grape flavor with strawberry notes. It's green with a purple hue. Grape Ape is an indica dominant hybrid (90/10). It contains 18-21% THC and low CBD. Its parent strains are Mendocino Purps, Skunk, and Afghani. This strain offers an uplifting high that melts muscle tension and anxiety. It also decreases pain and can be used to treat insomnia. However, it should be noted that it can cause couch lock. As a result, it's best to use this strain at nighttime. This strain can also help with loss of appetite, migraines, arthritis, PTSD, and bipolar disorder. This purple strain is a must-try.
Mendocino Purps
Mendocino Purps has a vibrant purple color and a tasty berry flavor. It has won multiple awards. It's sometimes known as Mendocino Purple and Mendo Purps. This indica-dominant hybrid (60/40) has 22% THC. It contains very low CBD and is very potent. This California strain's parentage is mostly unknown. People who use this purple strain report feeling happy, deeply relaxed, and pain-free. Mendocino Purps can treat depression, migraines, and PTSD. Many people also get the "giggles" and increased hunger. Mendocino Purps can increase sedation at the end of the high and can be used for insomnia. This strain is best for nighttime use and should be ingested slowly.
Purple Urkle
Purple Urkle is a classic strain with a vibrant purple hue. This purple strain has a wonderful grape flavor with earthy undertones. It's thought to be the offspring of Granddaddy Purple and another strain. Purple Urkle is an indica dominant hybrid (70/30) and contains 18-21% THC. In addition, it has 1% CBD and strong body effects. This strain is excellent for treating muscle spasms, autoimmune disorders, and joint problems. Similarly, people with fibromyalgia and chronic pain will benefit from its pain-relieving effects. Purple Urkle is excellent at treating insomnia and anxiety as well. Lastly, those with appetite loss and nausea should consider trying Purple Urkle.
Purple Kush 
Purple Kush is one of our top 10 kush strains and is dark purple in color. It also has a unique grape taste. This strain is a multi-award-winning strain. According to the High Times, it is one of the strongest strains. It has a THC level that can reach up to 27%. Purple Kush is a pure indica descended from Hindu Kush and Purple Afghani. After consuming this strain, people feel euphoria, hunger, and deep relaxation. Some users will drift off to sleep, and so it can be used for insomnia as well. Purple Kush offers a heavy body effect that soothes muscle spasms, anxiety, and neuropathy. People with chronic pain, cancer, anxiety, and mood disorders should try this strain. 
Sour Grape
Sour Grape has a beautiful purple color with orange pistils and white trichomes. Cannabis lovers will enjoy its sugary grape flavor with undertones of Diesel. Sour Grape contains 18-20% THC and 2% CBD. It's a perfect hybrid made by crossing the famous Sour Diesel with Granddaddy Purple. Be sure not to get confused with a similar-sounding strain called Sour Grapes. Ask about the parent strains before purchasing. This unique hybrid provides consumers with narcotic-like body buzz and pain-relieving effects. It's especially helpful for those with chronic pain disorders like arthritis, back pain, and fibromyalgia. Many people also use Sour Grape to help decrease inflammation and increase appetite. Make sure to have plenty of snacks handy with this strain.
Purple Haze
This strain was named after the Jimmy Hendrix song. It has dark to medium tones of purple, and a mixed berry and earthy flavor. Purple Haze is a sativa-dominant hybrid (85/15) with 20% THC and low CBD. Its parent strains are Purple Thai and Haze. Cannabis consumers love this strain for its cerebral high and increase of creativity. It offers euphoria and a body buzz that spreads all over. Many people love this strain for its potent effects. However, this is not a strain for first-time users. Try Purple Haze to soothe depression, chronic stress, anxiety, and lack of energy.
There are many excellent purple strains to try. Some honorable mentions include Purple Diesel, Granddaddy Purple, Grape Soda, and Purple Berry. Additionally, you may want to consider trying Purple Trainwreck and Grape Skunk. 
JANE Dispensary has two California locations that can help you with all your cannabis needs. JANE's cannabis consultants are available to answer any questions about purple strains and the best products for you. Please reach out to us with any questions.  We have a Santa Rosa Dispensary and a Cotati Dispensary. Shop our online dispensary with in-store pickup and delivery options.
Learn about getting a California Medical marijuana card here. 
Note: This article is for informational purposes only. It is not intended as medical advice. Please consult your physician.
You May Also Like:
---