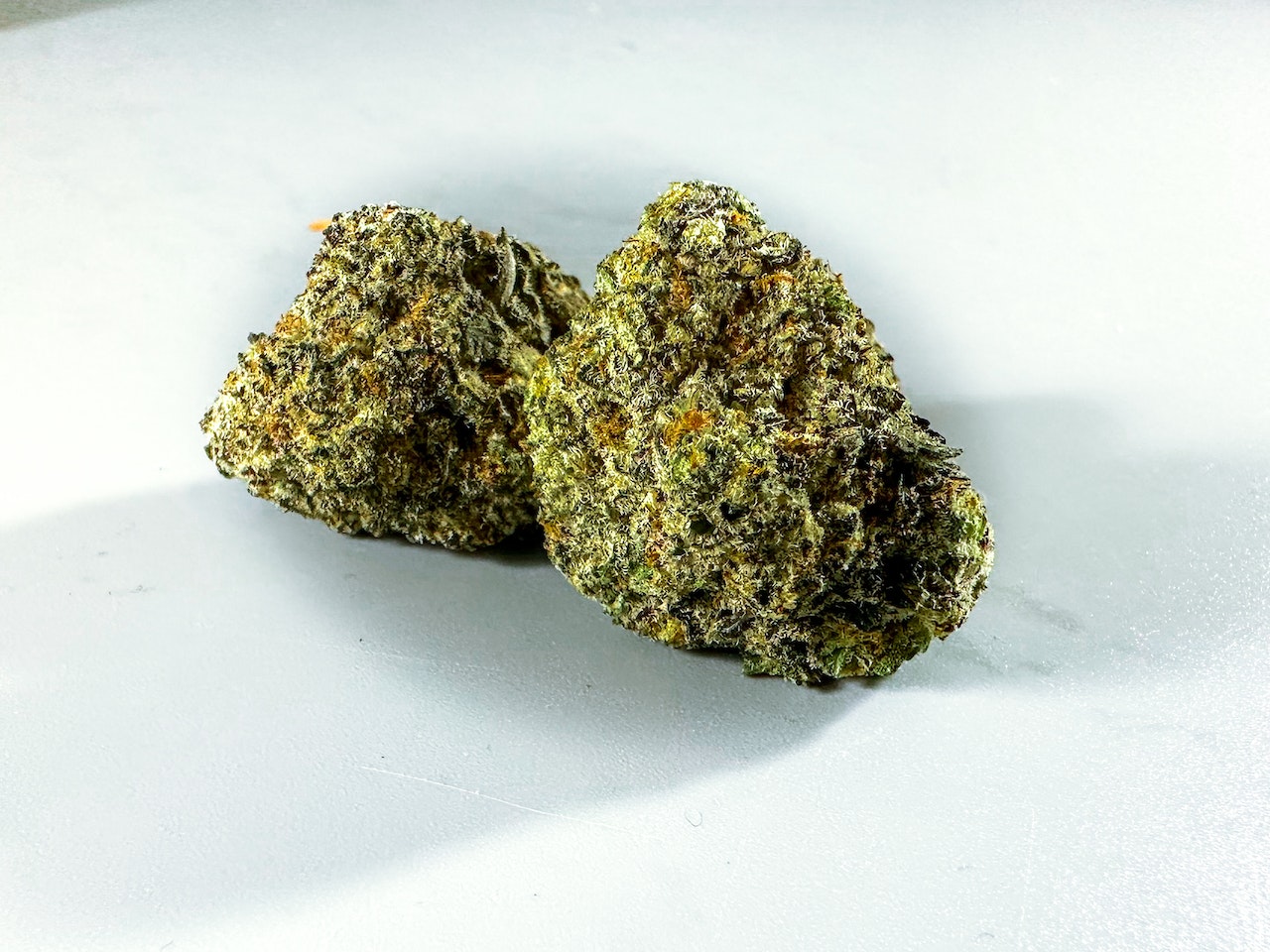 Do Si Dos, aka Dosi and Dosidos, is an award-winning indica-dominant hybrid that is nothing short of amazing! It was created by crossing a GSC phenotype with OG Kush Breath, and is known for providing medical-grade body effects. If you're looking for a strain that creates a long-lasting body buzz and sense of relaxation, the Do Si Dos strain is definitely one you'll want to try.
Do Si Dos Strain Info
This is a 70/30 indica dominant strain.

The average THC content is between 20-29%.

The average CBD content is 1%.

This strain is most commonly used for

anxiety

,

stress

, and pain relief.

The dominant Dosidos strain terpenes include limonene, linalool, and caryophyllene.
How to Identify the Strain 
Do Si Dos buds are small and dense. They have an abundance of purple and lime-green colored leaves and glistening trichomes. It's arguably one of the most vibrant strains available.
Do Si Dos Strain Effects
The Do Si Dos strain is an award-winner for a reason. Not only is it prized for producing a powerful full-body buzz and a sense of calm, but the mild sedative effects can melt away stress and worry. This strain is a heavy hitter, with THC levels up to 29%. Do Si Dos is best suited for an evening of watching television, relaxing, and connecting with friends.
What You Can Expect
You can expect to feel an amazing sense of calm from this strain. Do Si Dos creates a

euphoric

high that is both uplifting and creative while being deeply relaxing at the same time.  

The Do Si Dos strain may help spark creativity and is likely to have you flying high with inspiration. However, don't expect to have physical energy after using this strain, as the effects create quite the mellow, lazy high. 

The aromatic profile is pungent, earthy, and floral, with bursts of fruity lime notes.

Chronic pain patients absolutely love the Dosidos strain. It's useful for people who struggle with

migraines

, nerve pain, and

inflammation

.
Do Si Dos Strain Grow Info
The Do Si Dos strain is moderately difficult to grow and can be grown indoors or outdoors. It can also be grown in soil or hydroponically.  

The Do Si Dos strain flowering period is roughly 8 weeks.

The Do Si Dos strain yield is medium to heavy with average production being 500-900 grams per sq meter of grow space.
Strains Similar to the Do Si Dos Strain
If you like the uplifted, relaxing effects you get from the Do Si Dos strain, you may also like these strains: 
Peanut Butter Breath- This high THC hybrid strain is the result of crossing Do Si Dos with Mendo Breath. It has a unique nutty flavor profile, and will quickly bring you into a state of relaxation and bliss. If you enjoy the Do Si Dos strain, Peanut Butter Breath, or its sister breed Peanut Butter Cup are must-try strains. 
OG Kush Breath This strain is a descendant strain of the famous GSC strain. It's a very potent strain with THC levels of up to 30%. Therefore, it provides long-lasting head-to-toe effects. This strain is ideal for people who suffer from chronic stress or pain. 
Girl Scout Cookie (GSC)- This award-winning strain is one of the most well-known strains of all time. GSC was created by crossing OG Kush and Durban Poison. It's known for producing powerful euphoric highs and waves of body relaxation.
Dolato (Dosilato)- This high THC indica strain is the result of crossing Do Si Dos with Gelato #41. Dosilato is known for its beautiful color, and its potent calm, sedating high. Dosilato is most widely used for pain, stress, anxiety, and depression.
Where to Purchase
You can buy Do Si Dos strain products from our Santa Rosa Dispensary here and our Cotati Dispensary here. Need a medical card? Start the process here. JANE Dispensary offers an online dispensary menu with pickup and delivery options. 
*This article is not intended to serve as medical advice and is for informational purposes only. Please consult a doctor.
You May Also Like:
Sources: 
---