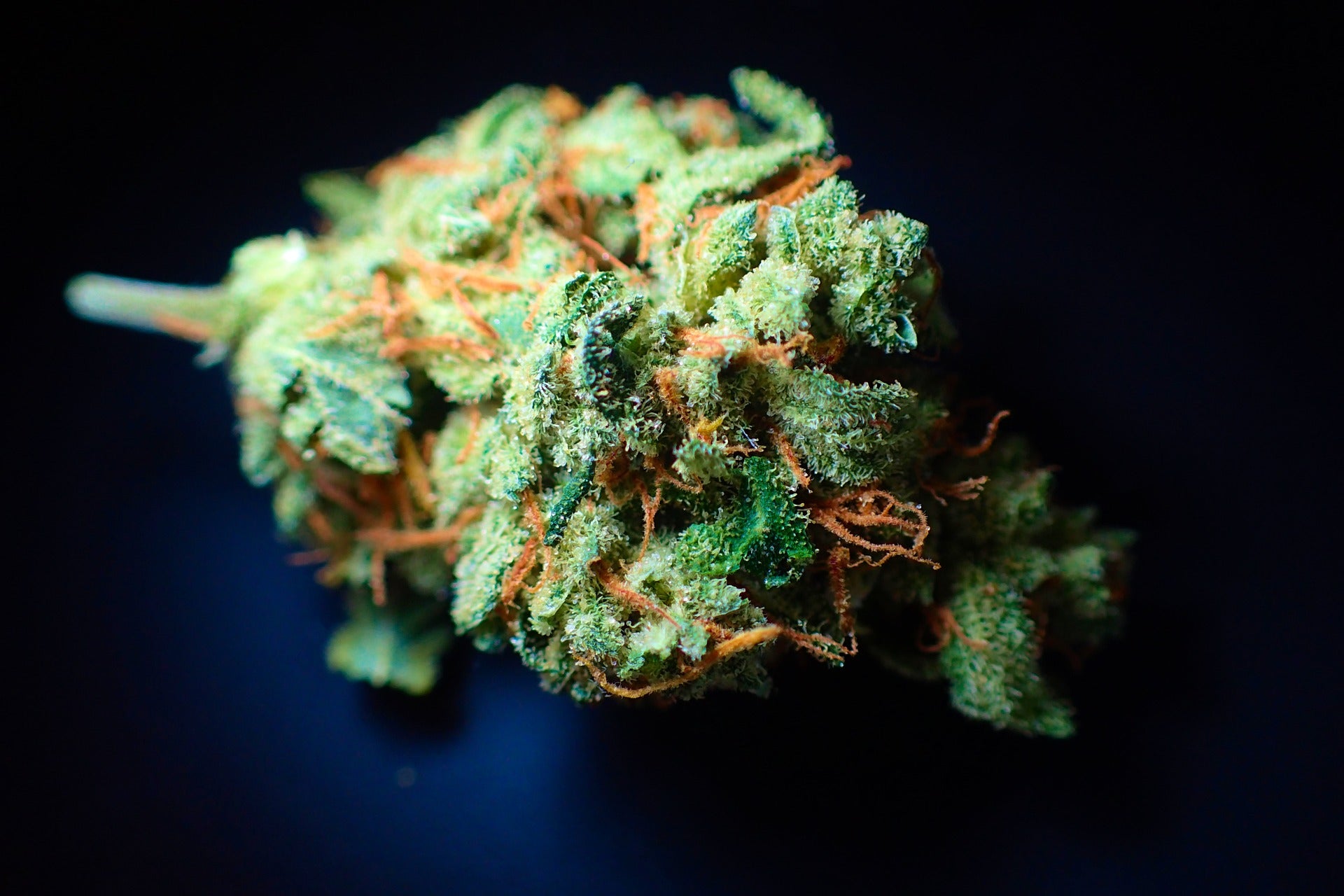 Grease Monkey is a potent hybrid strain created by crossing Gorilla Glue, aka GG4 with Cookies and Cream. With THC levels upwards of 25%, the Grease Monkey strain packs a wild punch! If you're looking for a strain that creates deep relaxation and a long-lasting body buzz, this is a strain you'll want to try. 
Grease Monkey Strain Info
This is a 70/30 indica-dominant strain.

The average THC content is 22-28%.

The average CBD content is less than 1%.

This strain is most commonly used for anxiety, stress, and pain

relief.

The dominant Grease Monkey strain terpenes include caryophyllene, limonene, and myrcene.  
How to Identify the Strain 
Grease Monkey buds are densely packed, with an abundance of pale green leaves, dark orange pistons, and glistening sticky white trichomes. If you're looking for a strain that delivers lots of resin, this strain is it.

Grease Monkey Strain Effects
The Grease Monkey strain is a heavy hitter, in both mind and body. With THC levels up to 30%, this strain delivers a body-numbing experience that is long-lasting. One thing is for certain, you shouldn't expect to be productive, as this strain is well known for its lazy, couch-locking high.
What You Can Expect
You can expect to feel a warm, tension-melting sense of calm from this strain. Most users report a faint sense of pressure that starts in the face and then spreads as waves of calm and muscle relaxation spread throughout the body.   

The Grease Monkey strain is known for sparking heightened awareness and sharpened perception. In fact, it's quite common for users to be extra aware and sensitive to external stimuli.

The aromatic profile is very pungent, sweet, and skunky with bursts of vanilla undertones.

People who struggle with chronic stress and anxiety love how this strain calms the mind and body, allowing for deep relaxation and sleep. However, cannabis newbies should be careful of consuming too much, as it can cause paranoia in some people.   
Grease Monkey Strain Grow Info
Grease Monkey strain seeds are readily available for those who wish to grow this strain at home. Be warned, however, that this strain is particularly stinky, so you might want to invest in odor control measures.

Grease Monkey is moderately easy to grow and can be grown indoors or outdoors as long as temperatures remain over 72 degrees.

The Grease Monkey strain flowering time is 8-9 weeks.

The Grease Monkey strain yield is on the higher end of the production scale.
Strains Similar to the Grease Monkey 
If you like the relaxing effects you get from the Grease Monkey strain, you may also like some of these strains:
Gorilla Glue- This award-winning, high THC hybrid strain delivers a heavy-handed euphoric, "glued" to the couch high. If you're looking for a high that will relax you in mind and body, Gorilla Glue may be the answer. 
Chemdawg- This staple strain has created some of the most well-known cannabis strains out there, including Sour Diesel and OG Kush. Chemdawg is known for its very distinct diesel-like aroma and for its euphoric, uplifting high. 
Girl Scout Cookie (GSC)- This award-winning strain is one of the most well-known strains of all time. GSC was created by crossing OG Kush and Durban Poison. It's known for producing powerful euphoric highs and waves of body relaxation and calm.
Sour Diesel- This high THC strain is a beast. Known for its cerebral, energizing effects, Sour Diesel will have you feeling talkative, creative, and ready to take on the world. This strain is most widely used for stress, anxiety, and depression.
OG Kush- OG Kush is a timeless hybrid OG strain that produces a balanced head and body high. It's widely used to create other popular strains such as Girl Scout Cookies, Ghost OG, and Bubba Kush to name a few.  This strain is a cannabis staple that always delivers. 
Where to Purchase
You can buy Grease Monkey strain products from our Santa Rosa Dispensary here. Need a medical card? Start the process here.
JANE Dispensary offers an online dispensary menu with pickup and delivery options. You can also visit one of our beautiful locations: our Santa Rosa Dispensary or our Cotati Dispensary.
*This article is not intended to serve as medical advice and is for informational purposes only. Please consult a doctor.
You May Also Like:
Sources: 
---