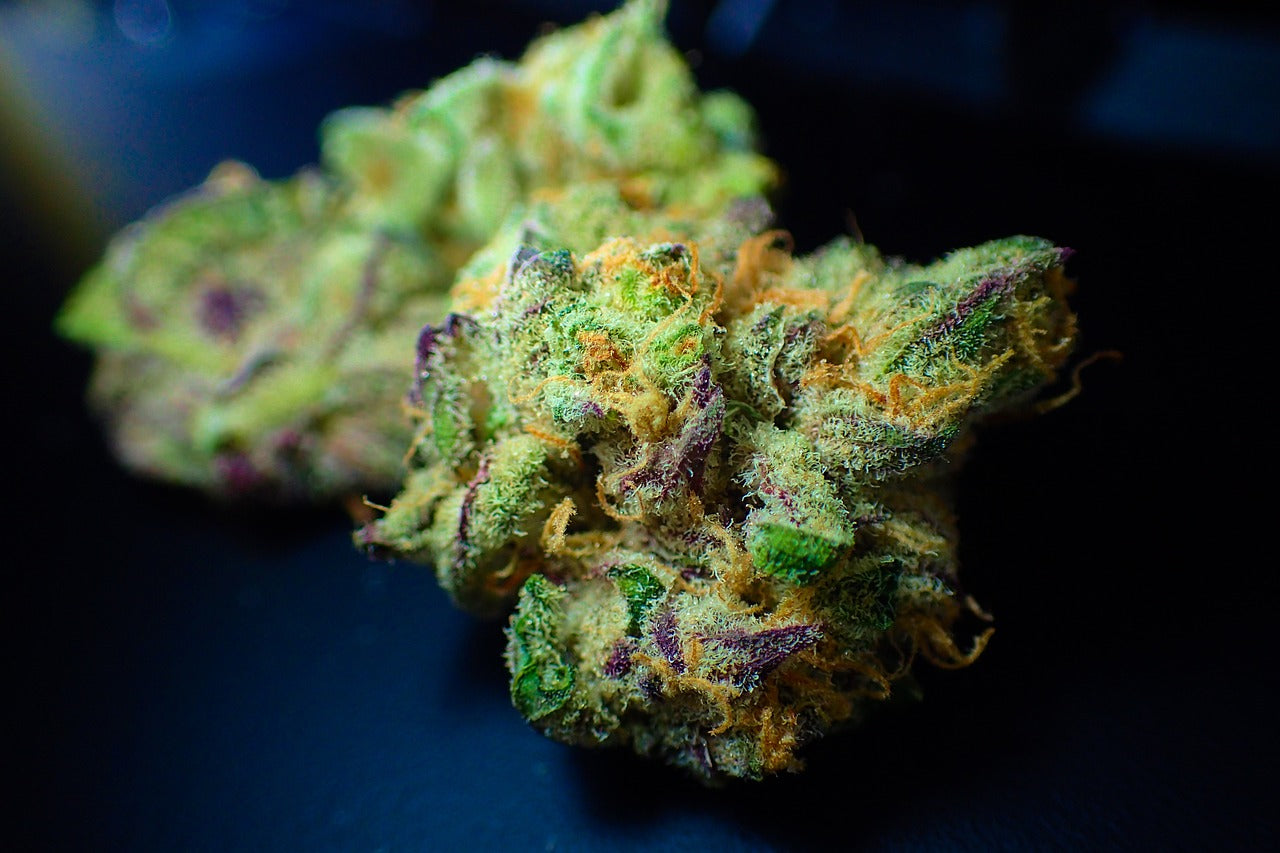 The Grandaddy Purple strain is a famous indica created by crossing Purple Urkle and Big Bud. The effects this strain produces are felt in both mind and body, creating a dreamy buzz that can have you feeling lazy and uplifted. This top-shelf strain is popular for good reason. 
Granddaddy Purple Strain Info
The average THC content averages between 17-20%.

The average CBD content is less than 1%.

This strain is most commonly used for anxiety, stress, and pain. 

The dominant Granddaddy Purple strain terpenes include

myrcene

, caryophyllene, and

pinene.
How to Identify the Strain 
Granddaddy Purple buds are a spitting image of their parents. They have big, overgrown dense buds from the Big Bud strain and the dark purple hew of Purple Urkle. Bright orange hairs and frosty trichomes also cover this strain, making it arguably one of the most beautiful strains. 
Granddaddy Purple Strain Effects
The Granddaddy Purple strain delivers a high that is both cerebral and body-numbing. This strain is well-known to melt away anxiety, calm the mind, and balance your mood. However, it's also very likely to have you couch-locked, so it's the perfect strain to reach for when you're winding down for the evening.   
What You Can Expect
Effects from this strain hit quickly, initially creating a cerebral high followed by an intense body buzz.

The aromatic taste profile is that of berries and grapes, with a little bit of dank floral thrown in.

This is not one to use when you want to be productive, as you can definitely expect a couch-locking experience from this strain. 

Granddaddy Purple is a go-to for chronic pain patients because the body buzz most experience is unmatched.

If you're new to cannabis, start slowly. This strain packs a punch and can result in dizziness if you overdo it. 
Granddaddy Purple Strain Grow Info
Granddaddy Purple is moderately easy to grow but does best when grown inside under ideal conditions (70 degrees and above, and humidity of 50-55%). 

It should be noted that because the buds of this strain get so large, support may be needed around the 60-day mark.

Granddaddy Purple strain flowering time is 8-9 weeks.

The Granddaddy Purple strain yield is higher than average and can top 4 oz per plant when grown indoors and several pounds when grown outside. 
Strains Similar to Granddaddy Purple 
If you like the calming effects you get from the Granddaddy Purple strain, you may also like some of these popular strains:
Grape Ape- Grape Ape is the result of crossing Mendo Purps, Afghani, and Skunk. However, it's often mistaken for Granddaddy Purple, that's how similar they are. With a similar THC profile and taste, you can expect a potent pain relieving, sedating high. 
Critical Kush- This fantastic strain was created by crossing OG Kush with Critical Mass. This strain relaxes both the mind and body. It's widely used for people suffering from chronic pain and stress. 
Purple Punch- Thanks to its parent strain, Granddaddy Purple, Purple Punch is another indica strain that will have you relaxed, lazy, and sleepy. This strain hits mentally and physically and the taste of this strain has been compared to that of tart Kool-Aid. 
Cherry Pie- Cherry Pie is a powerful hybrid and child of Granddaddy Purple. It's known to make users giggly and uplifted. Cherry Pie is not as sedating as Granddaddy Purple, so it can be used both day and night. It's most commonly used for stress, depression, and anxiety relief.

Where to Purchase
You can buy Granddaddy Purple strain cartridges and other products from our Santa Rosa Dispensary here or our Cotati Dispensary here. Need a medical card? Start the process here.
JANE Dispensary offers an online dispensary menu with pickup and delivery options. You can also visit one of our two beautiful locations, our Santa Rosa Dispensary or our Cotati Dispensary.
*This article is not intended to serve as medical advice and is for informational purposes only. Please consult a doctor.
You May Also Like:
Best Strains for Pain and Fatigue
Sources: 
---