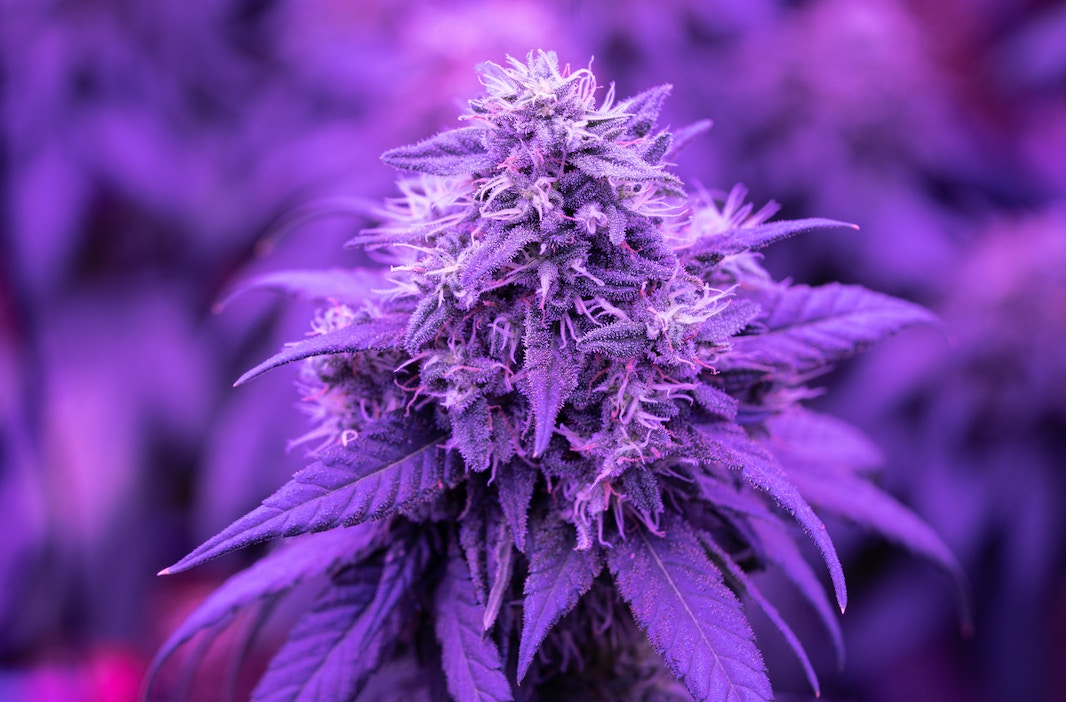 Blue Dream is a powerful and well-balanced sativa dominant hybrid. It was created by crossing Blueberry and Haze, and is easily one of the most prized and sought-after cannabis strains of all time. For this and numerous other reasons, the Blue Dream strain is perfect for both novice and veteran cannabis connoisseurs alike. 
Blue Dream Strain Info
The average THC content is between 18-24%.
The average CBD content is around 1%.
This strain is most commonly used for stress, depression, and pain relief.
The dominant Blue Dream strain terpenes include myrcene, pinene, and caryophyllene.
How to Identify the Strain
Blue Dream buds are long and full. They are generally light green in color with deep blue hues throughout, amber hairs, and lots of milky white trichomes.
Blue Dream Strain Effects
Blue Dream is a strain that brings together the best of sativa and indica strains. This strain is well-known for producing full-body relaxation and a dreamy, motivated cerebral high. It's the perfect strain for unwinding, immersing yourself in creative endeavors, and having long conversations with friends. It's touted as an all-around feel-good strain that will calm your mind, relieve your worries and stimulate creativity.  
What You Can Expect
When taken in small quantities, Blue Dream is very stimulating and motivating. If you choose to microdose, you'll likely find that you are more productive and focused. However, when taken in large doses, this strain will likely make you ultra relaxed and sleepy. 
If you suffer from anxiety, you should start at an extra low dosage with this strain and see how it affects you. While it's a well-balanced strain overall, when taken in large quantities, the most commonly reported side effects are paranoia and increased anxiety. 
The aroma of Blue Dream is both sweet and fruity, like a bowl of sugar-topped blueberries. Like many strains, the flavor is particularly strong and long-lasting when consumed as a Blue Dream cartridge.  
Blue Dream is one of the most sought-after strains for those seeking pain and depression relief. When taken in the right dosage, pains have a tendency to just melt away. It is also commonly used by people who need to stimulate their appetite. Thus, you can definitely expect to get the munchies when consuming this strain, make no mistake about it.  
Growing Blue Dream
The Blue Dream strain is very easy to grow and a good choice for those with little to no growing experience. 
It thrives both indoors and out, with an average flowering time of 10 weeks.
This is a high-yielding strain that averages a whopping 21 ounces per plant.
Strains Similar to Blue Dream
If you enjoy Blue Dream, you may also like these strains: 
Banana Cream OG- This mysterious hybrid strain is the result of crossing Blue Dream with Banana OG and Ocean Beach OG. It's a heavy hitter that produces a strong body buzz and is perfect for pain relief and insomnia. The aroma is said to be an odd, but tasty mix of orange and spearmint. 
Jager- This pure indica strain is the result of crossing Blue Dream with LA Confidential. This powerful strain also creates a body buzz that is lazy, but not sedating, unless taken in larger quantities. This strain tastes like black licorice and is best used for pain relief, insomnia, and stimulating appetite. 
9 Pound Hammer- This indica strain is extremely similar to Blue Dream in its makeup. It is the result of crossing Gooberry, Hells OG and Jack the Ripper. This strain offers a taste that is sweet with notes of grape and lime. It's most commonly used for stress and pain relief and will produce a hard-hitting and long-lasting body high. 
Where to Purchase
You can buy Blue Dream strain products from our Santa Rosa Dispensary here, and our Cotati Dispensary here. Need a medical card? Start the process.
JANE Dispensary offers an online dispensary menu with pickup and delivery options. Alternatively, you can visit one of our two beautiful locations: the Santa Rosa Dispensary or the Cotati Dispensary.
*This article is not intended to serve as medical advice. It's for informational purposes only. Please consult a doctor.
You May Also Like:
Best Strains for Pain and Fatigue
Best Strains for ADHD and Anxiety
Sources:
---